Vinyl Plank Flooring & Stair Installation
Sioux Falls Flooring and Stair Installation
Handy Andy'z - Handyman services from A to Z! We don't pretend to know it all, but we're pretty close to it.
Want a new look for your kitchen, bathroom, living room or rec-room?
Installing a new floor really makes a difference on the look and style of any room or hallway.
We install luxury vinyl planking on stairs and floors, and have all the bases covered.
We are Sioux Falls born and raised, and we want to be your forever handyman. We promise to do our best, and leave you with a beautiful and durable floor for years to come.
Flooring Types
Luxury Vinyl Plank Floors
Vinyl Plank Tile Floors
Vinyl Plank Stairs
Vinyl Plank Stair Treads and Edging
Now You Know a Guy!
Licensed | Bonded | Insured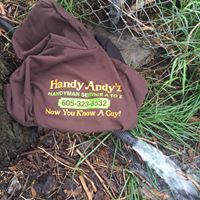 Project 1 Flooring Installation - After
Project 1 Flooring Installation - Before